Chemists in the Mountains, 2019
Nine Utah chemists ventured into the Uinta Mts. of Northern Utah starting early on Thursday, August 15, 2019.
<![if !vml]>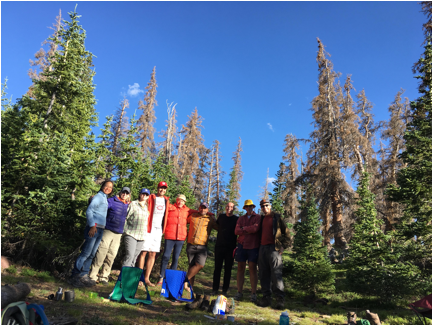 <![endif]>
This group photo at our campsite shows (l-to-r) Ming, Mary Ann, Erin, Aaron, Jack, Brandon, Andrew, Peter, and Matt
The hike it was pretty tough even though it was only about 6 miles. We gained 1000 ft in the first 2.5 miles much of it in switchbacks. After that, the trail became less steep (for awhile), so we took a break to rest and enjoy the scenery.
<![if !vml]>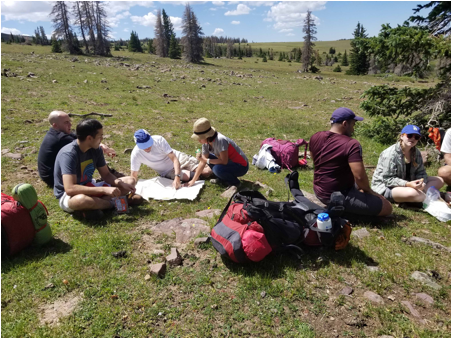 <![endif]>
Here we see Andrew, Aaron, Jack, and Ming looking at a map and Brandon and Erin relaxing.
After the rest, we take to the trail again (below we see Matt looking happy) still having to go up another 1000 ft to near the top of Bald Mountain. Our hike began at an elevation of 9600 ft, and our high point was at 11,600 ft.
<![if !vml]>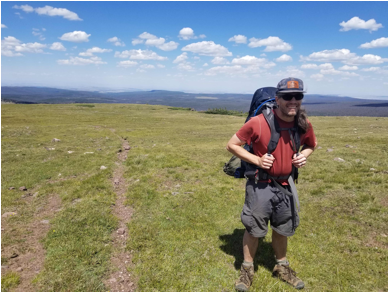 <![endif]>
At about the 4.5 mile mark, we got our first view of Bald Lake (see below) and of some of the higher peaks in the Uintas (Gilbert Pk is the one most to the left in the distance).
<![if !vml]>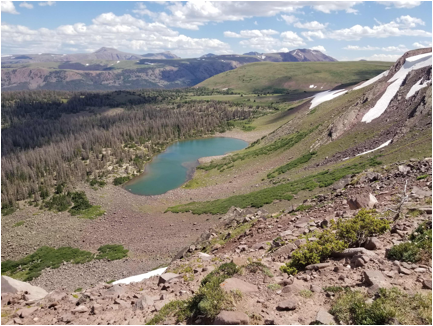 <![endif]>
Bald Lake sits at a bit over 11,000 ft. We had to hike past the cliffs to the right in the photo, past the lake, and then descend down from the high plateau into the grassy areas on the upper right side of the lake. This is where we made our base camp.
The next morning after breakfast, we ventured out on a 10+-mile day hike to the Red Castle Lakes area. Below, we see Ming (with Aaron in the background) as we set off from our Bald Lake camp.
<![if !vml]>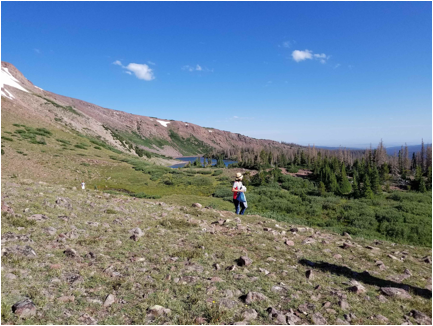 <![endif]>
As you can see (below), we had to hike up (about 500 ft) from Bald Lake back onto the high plateau which we reached the day before. However, today we walked south toward the Red Castle Lakes area on this plateau.
<![if !vml]>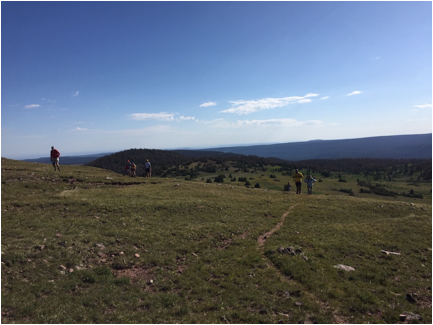 <![endif]>
<![if !vml]>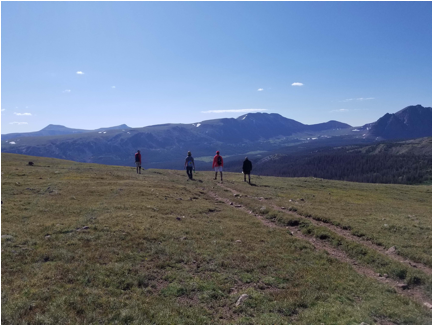 <![endif]>
Here we see Jack, Ming, Aaron and Andrew on the plateau as they head toward Red Castle (one of the peaks to the righ). Again, Gilbert Pk. is the one far in the distance to the left.
A little farther, we reach the top of a set of switchbacks but before going down, we took a photo of Red Castle Peak (below)
<![if !vml]>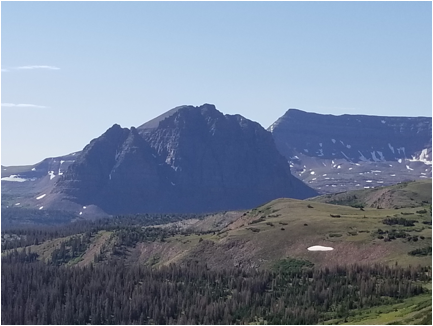 <![endif]>
At this high point, we gathered the five chemistry profs for a collective photo (below)
<![if !vml]>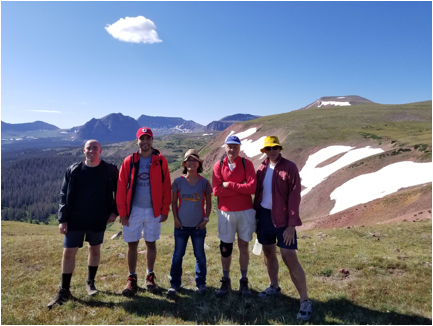 <![endif]>
Andrew, Aaron, Ming, Jack, and Peter
We then made our way down the switchbacks (about 400 ft.) as we see Jack and Aaron doing below
<![if !vml]>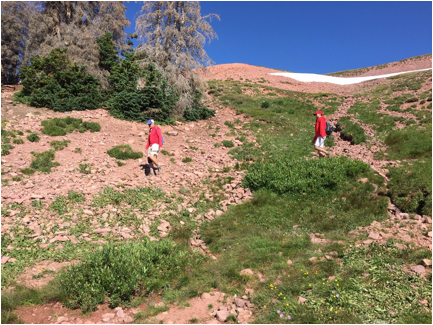 <![endif]>
As we hiked closer to Red Castle, we encountered many beautiful wildflowers
<![if !vml]>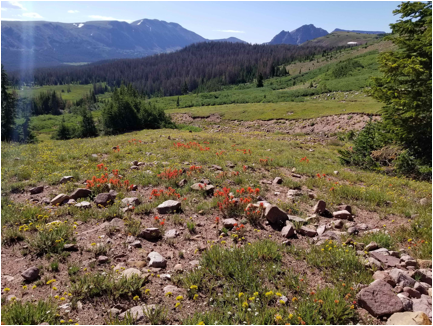 <![endif]>
<![if !vml]>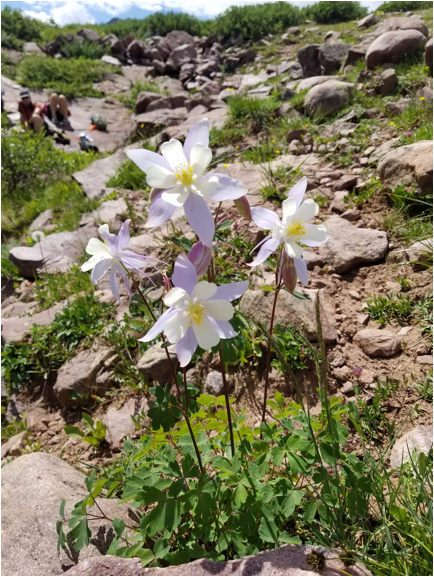 <![endif]>
And finally we approached Red Castle itself
<![if !vml]>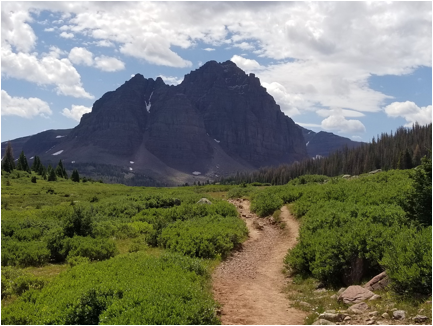 <![endif]>
near where we found a nice waterfall and a place to have lunch. Below, we see Erin and Matt at the lunch spot.
<![if !vml]>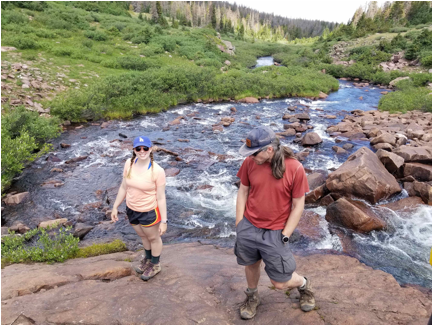 <![endif]>
As some of us lounged and ate lunch, Aaron and Andrew ventured onward to Red Castle Lake where we are told that Andrew waded and lasted (5 to 30 seconds, depending on when the story was told) under water.
<![if !vml]>

<![endif]>
Red Castle Lake with Red Castle Peak behind it.
After lunch and the trip two of us took to the lake, we headed back up the switchbacks. Below, we see Aaron looking back toward Red Castle from a point partway up the switchbacks.
<![if !vml]>

<![endif]>
After resting and exploring a route back to the trailhead that did not require again climbing the 500 ft up from Bald Lake to the plateau, we had a fine camp meal and did some fun story telling.
The next morning, we rose at 6 am (it had rained a bit around 4:30 am, but when we exited our tents, the sky was clear and we were ready to return to "civilization". After breakfast and packing up, leaving camp at around 8:20, we hiked out on the new route Peter and Matt championed and made it back to our cars at around noon.
<![if !vml]>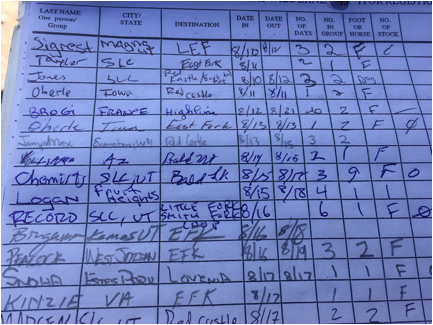 <![endif]>
This is the trail registry showing the chemists entering on 8/15 and out on 8/17, all 9 of us safe and sound. You can see that this trailhead (East Fork of Blacks Fork) has very little traffic between 8/10 and 8/17, which is typical for some of the more difficult to get to Uinta trails.